.... when I was a teenager."

I listened to nothing but Hip Hop, which inevitably lead to A Tribe Called Quest, Blackstar, Biggie, Wu Tang, maybe a little Nas... not much 2Pac and a whole lot more!!
ok!! Yeah!! There was some Boy II and Blackstreet and..?
anywayz.... I've realized that today's teenagers are now hearing 90's Hip Hop and smooth grooves flavas for the first time, and it's sounding just as fresh to them as Marvin Gaye sounded to me the first (proper) time round.
Makes me feel old(er)... but then refreshingly enough the truer side of hip hop is shining through...!!
Big up the
Work It
massiv' (Tina Turnover, Think Twice and Johnny Det) for bringin' it back from the whack...
They'll be bringin' the pain right from the off at
The Q-Tip After Show Party
on Saturday (14th) at the Black Lotus Karate Club, Scrutton Street, London... with myself, Gilles Peterson, Lefto and OUCH!!! Q-TIp!!
Will def be "Workin It" at the next gathering....!!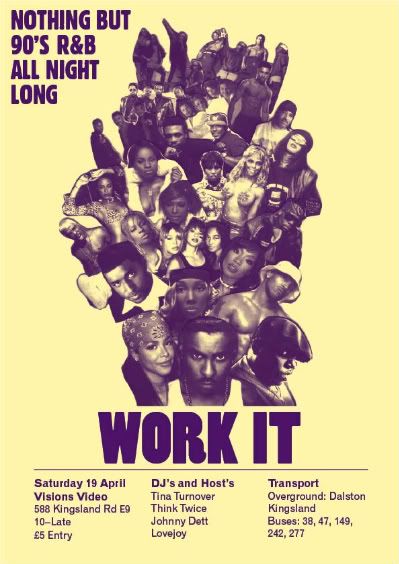 While we're on it...!!
make sure you check out the Fly Girls comp on Soul Jazz!!
It does exactly what it says on the tin.
Female Rap from way back....!!
some party popopin' break extra female flips from Bahamadia, Cookie Crew, Cookie Crew, Sequence and even Missy Elliot.
available from
Soul Jazz
shame K-Ci and JoJo couldn't stand the test of time...!!!